This post is an introduction which touches briefly on some of the more common elements of WWII Navy Service Records (sometimes referred to as WWII Navy O.M.P.F.'s or official military personnel files). WWII era Navy Service Records are fairly standardized. The record keepers who were charged with maintaining your ancestor's personnel file during the war would have been mandated to document milestones in his or her military service and to place these records within the service file for safe keeping. These compiled military service records are now held at the National Archives and you can either request copies of the complete file, or view the original records in person yourself. You can order your WWII Navy veteran's service records here: Order a WWII Navy service record.
My goal with this article is to let you know what to expect when requesting your veteran's WWII Navy Service Record. I have created (or am in the process of creating) additional articles on this site which deal with the individual components of the WWII era Navy Service Record. Each of these individual elements of the WWII Navy Service Record offers an exciting opportunity for finding out more about your family history. Above and beyond the obvious insight these records provide into your ancestor's military service, these service records also offer a great deal of information that can be useful for genealogical research in general. After reading this article you will have a feel for what the WWII era Navy Service Records offer in the way of military and genealogical research tools. You can then explore each individual component in more detail by checking out other articles offered on this site. Let's take a look at some of the documents you can expect to find inside of a WWII era Navy Service Record.
The Navy discharge or report of separation: The discharge is one of the most sought after records that can be found in the Navy Service Record. The main reason for this is that it provides a great deal of information, perhaps best described as a snapshot, covering your veteran's naval service all in one document.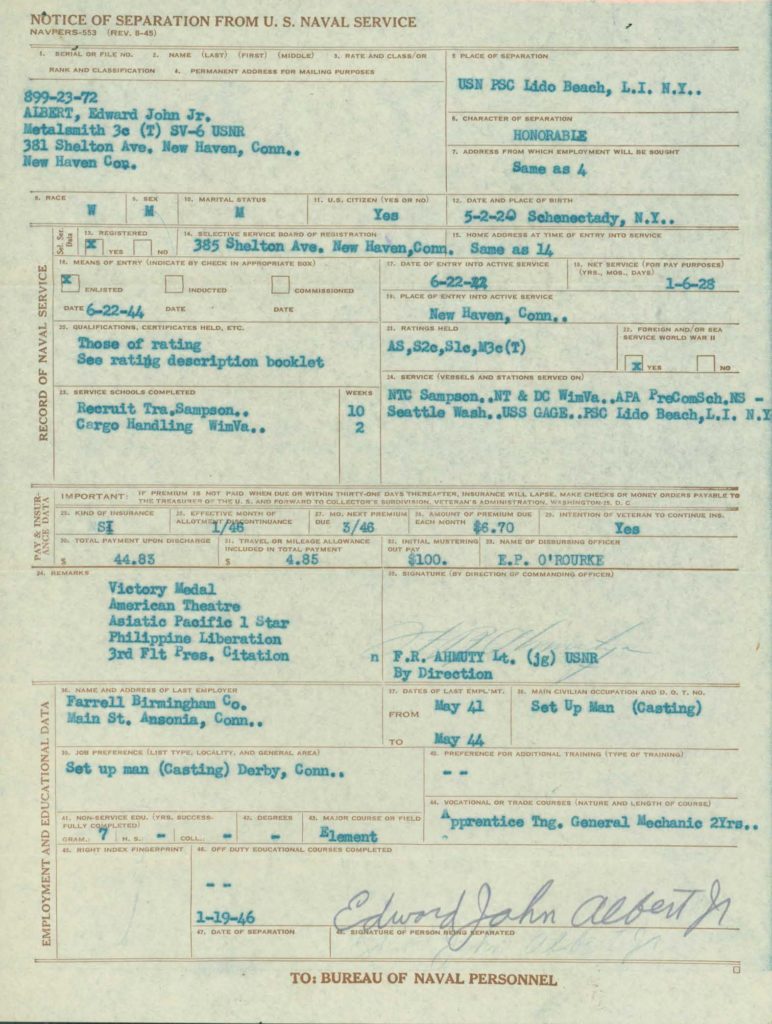 A photo of your WWII Navy veteran: Most enlisted WWII era Navy Service Records contain a photo negative of the veteran. These photo negatives can be converted into a digital format providing us with a stunningly clear image of the ancestor you are researching.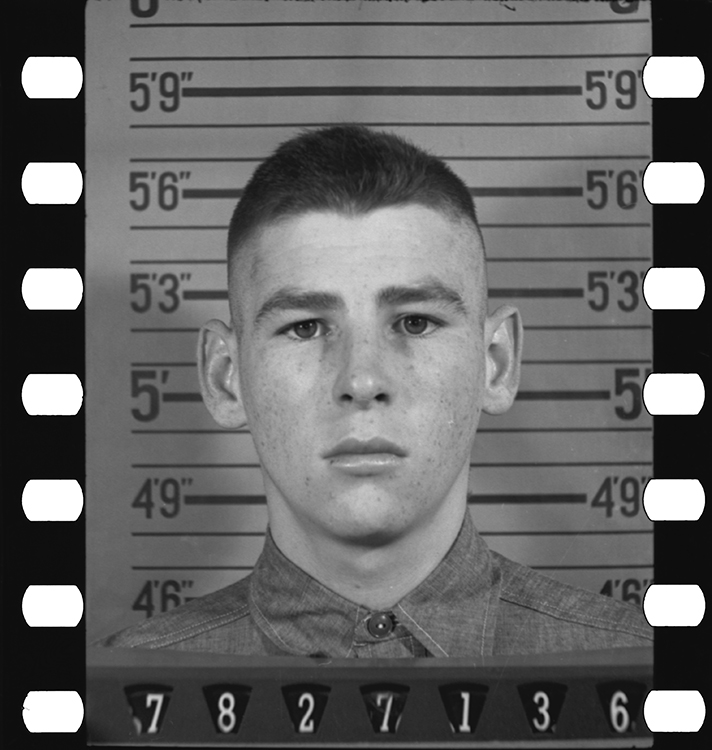 Family and dependent records: Navy Military Service Records contain documentation of a veteran's places of residence, spouse, children and much more. The information pertaining to family life such as marriage, divorce and the birth of children can be a goldmine for any genealogical researcher and can open up exciting avenues for further research into your family history.
The Navy service record booklet: Navy service booklets condense a great deal of material on the veteran, both military and civilian, into a series of chronological documents. The information inside the navy service booklet can be a useful guide for understanding  your veteran's navy career and life outside of the service including his education, civilian jobs, military duties, awards, units, ships the veteran served on.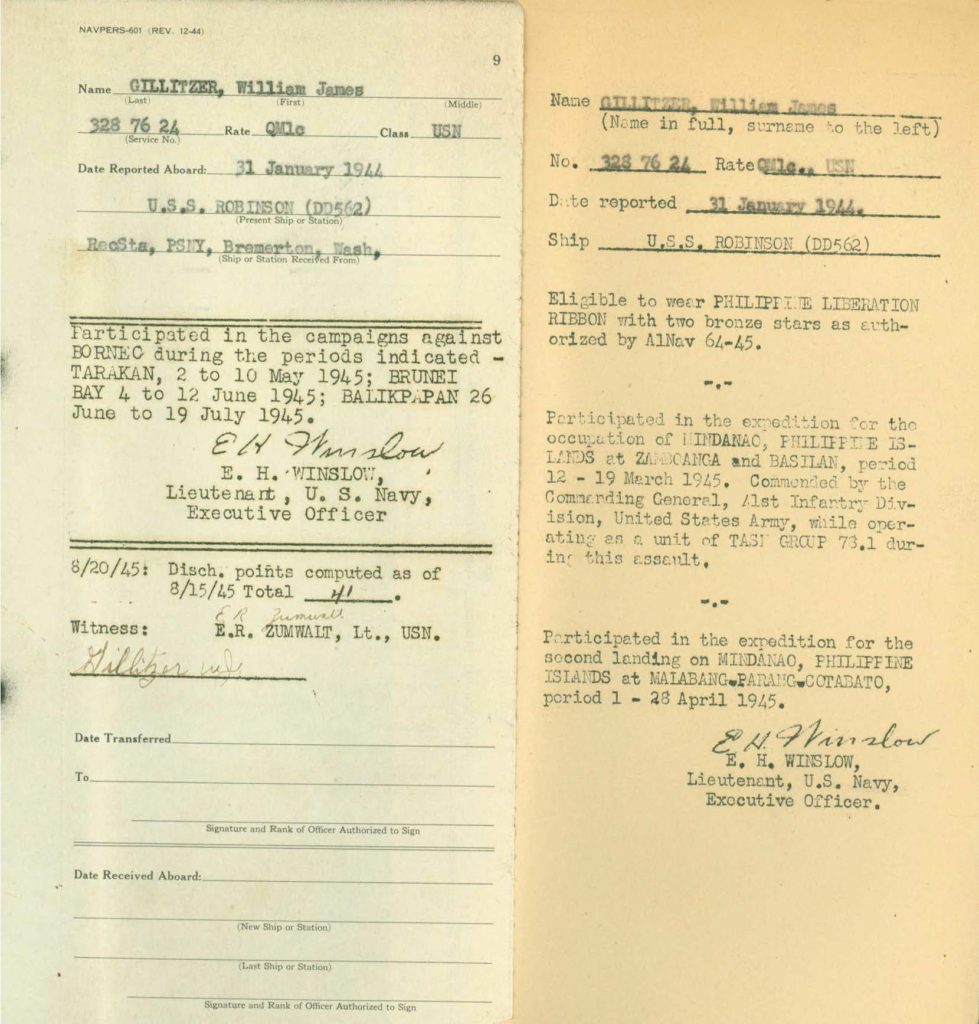 WWII Navy Enlistment records: The Navy maintained enlistment records which will show your ancestor's application and assessment for entrance into the Navy during WWII. These Navy enlistment records provide a wealth of data about your family member's entrance into the service and civilian life prior to entering the military.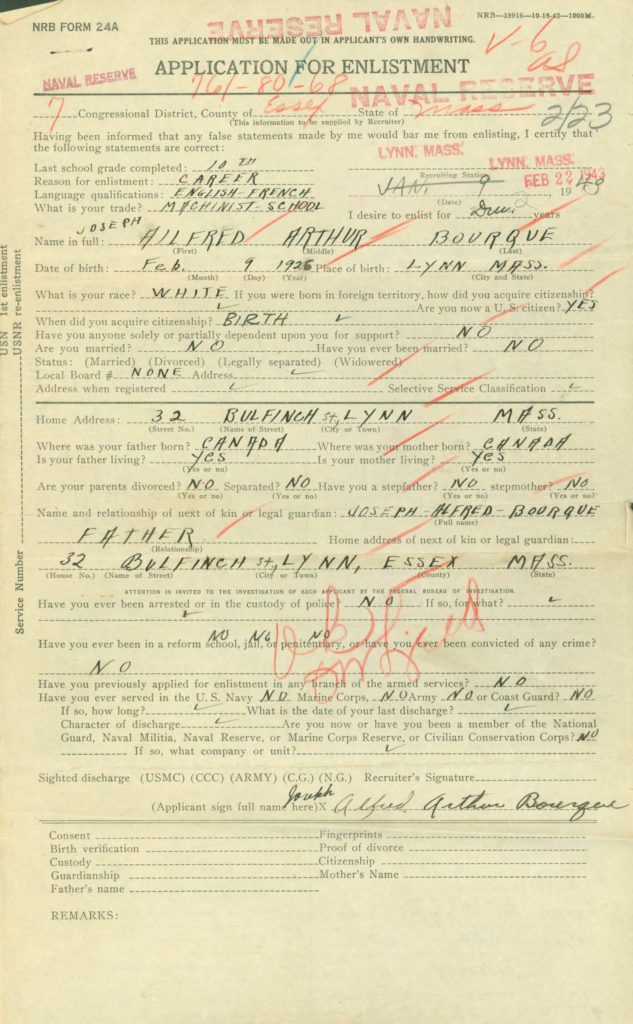 WWII Navy Awards and Commendations: One of the most exciting aspects of Navy Service Records is the documentation of heroics performed by your veteran and his unit. Navy citations actually describe actions taken by individuals during their naval service that set them apart for displaying gallantry under fire.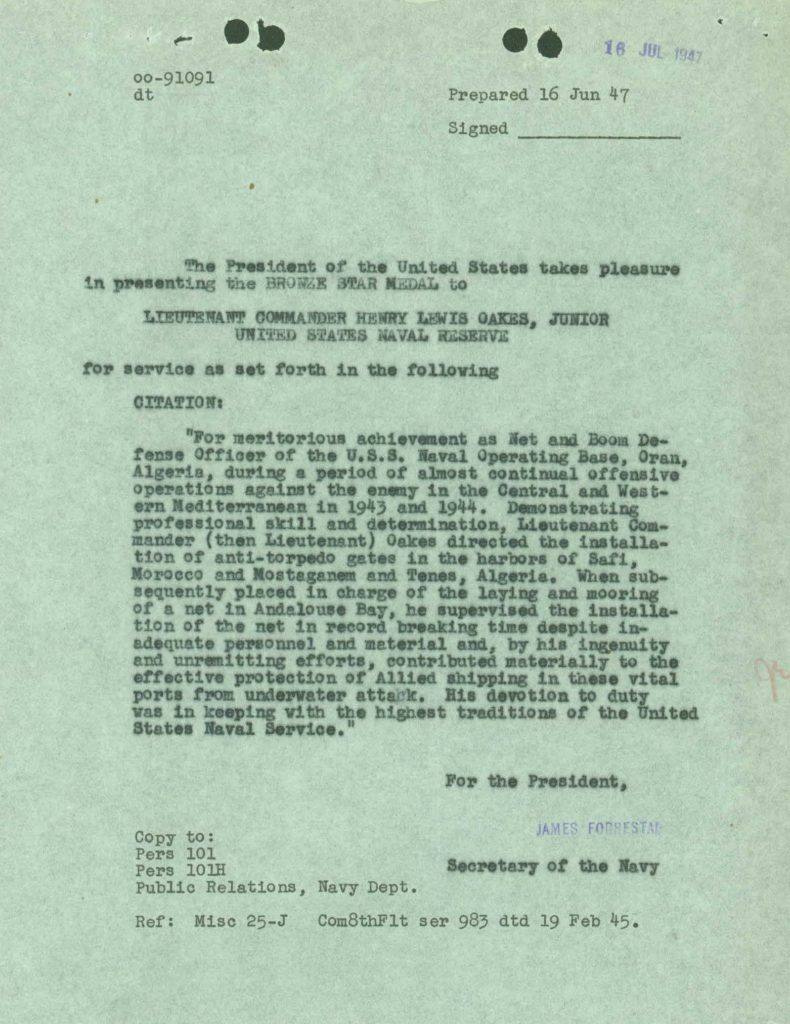 WWII Navy Medical records: Navy service records often contain medical records on your veteran. These can be anything from dental records, physical examinations for duty, to medical documentation of wounds received during combat.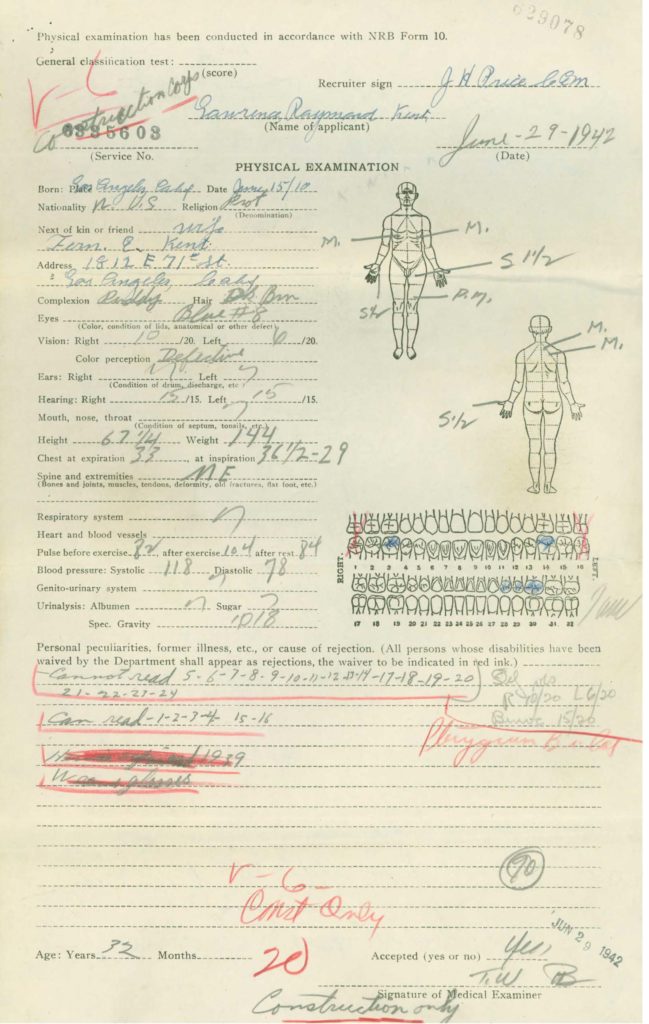 Navy Qualification cards: Qualification cards describe the skills that a Navy Veteran acquired over his military service as well as his civilian occupations, hobbies and education.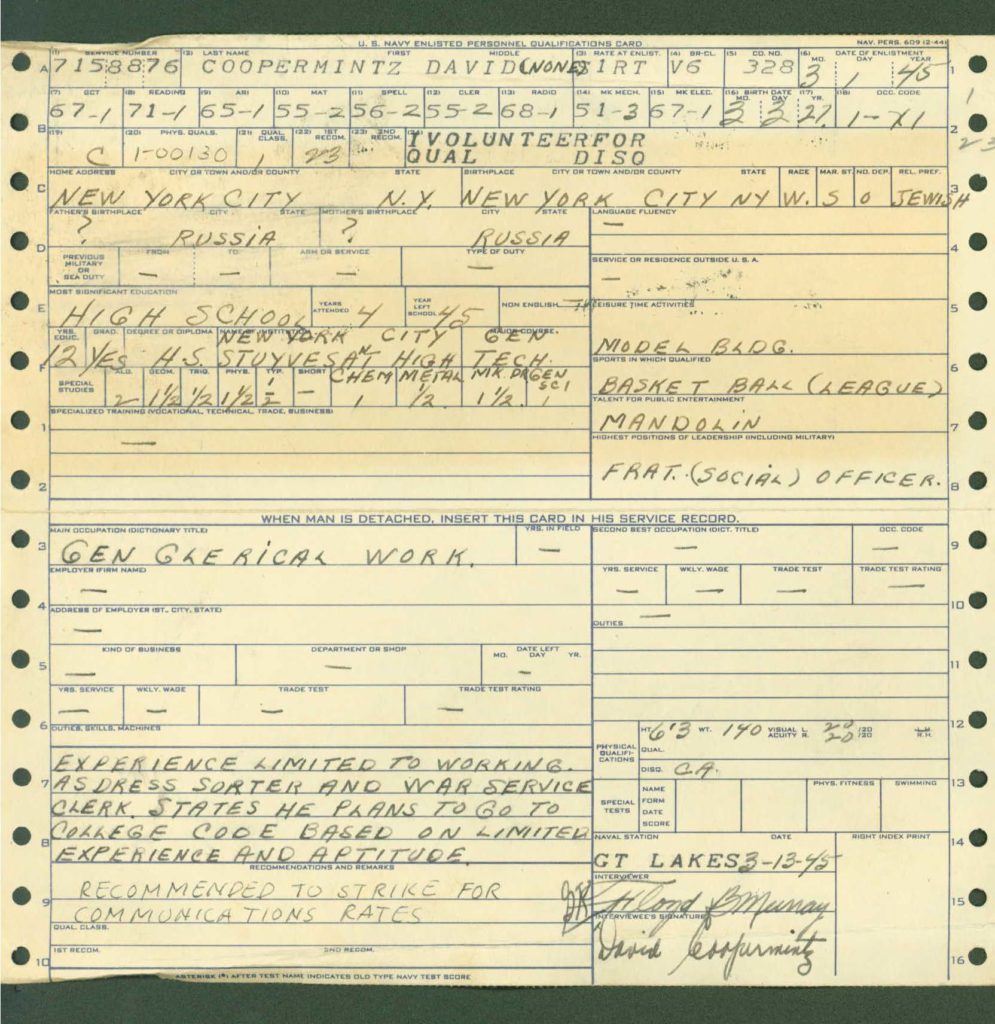 Correspondence: Many Navy service records contain letters written by the veteran and his family, as well as official letters written to the family from the Navy. These letters, often hand written by the veterans themselves, offer a fascinating glimpse into the past.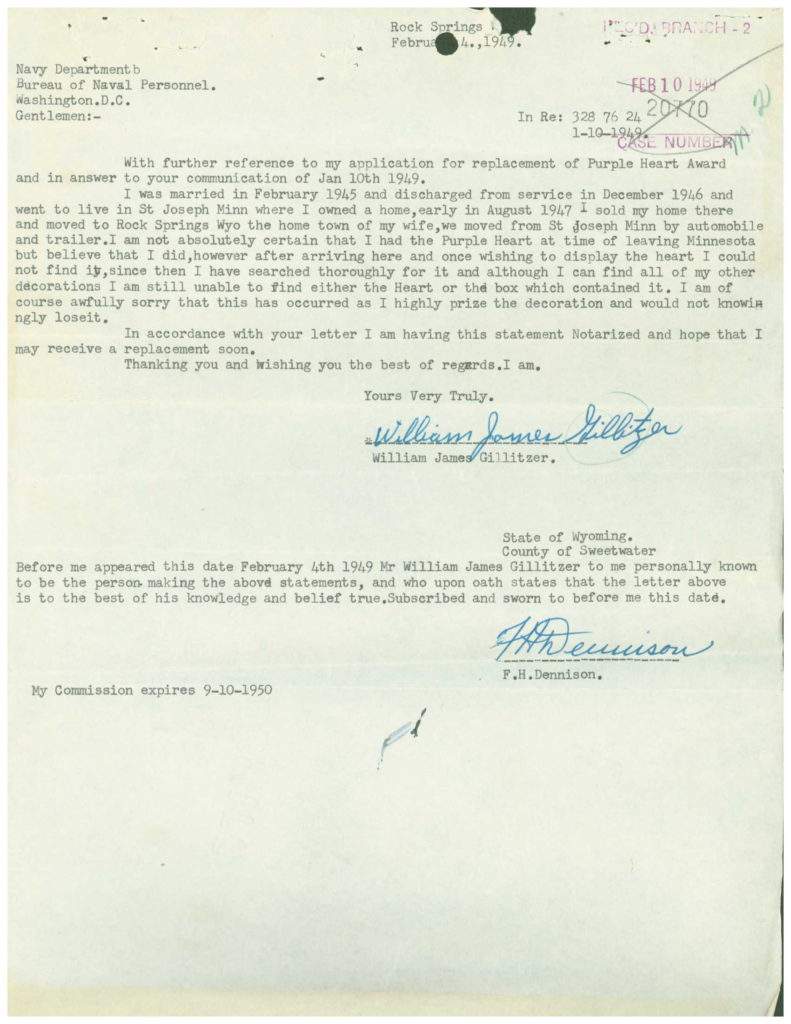 WWII Navy Burial and Casualty Reports: Navy service records of veterans who were wounded or killed in action contain a wide array of records which can show how the veteran became a casualty, and may contain correspondence with the family, burial records and much more.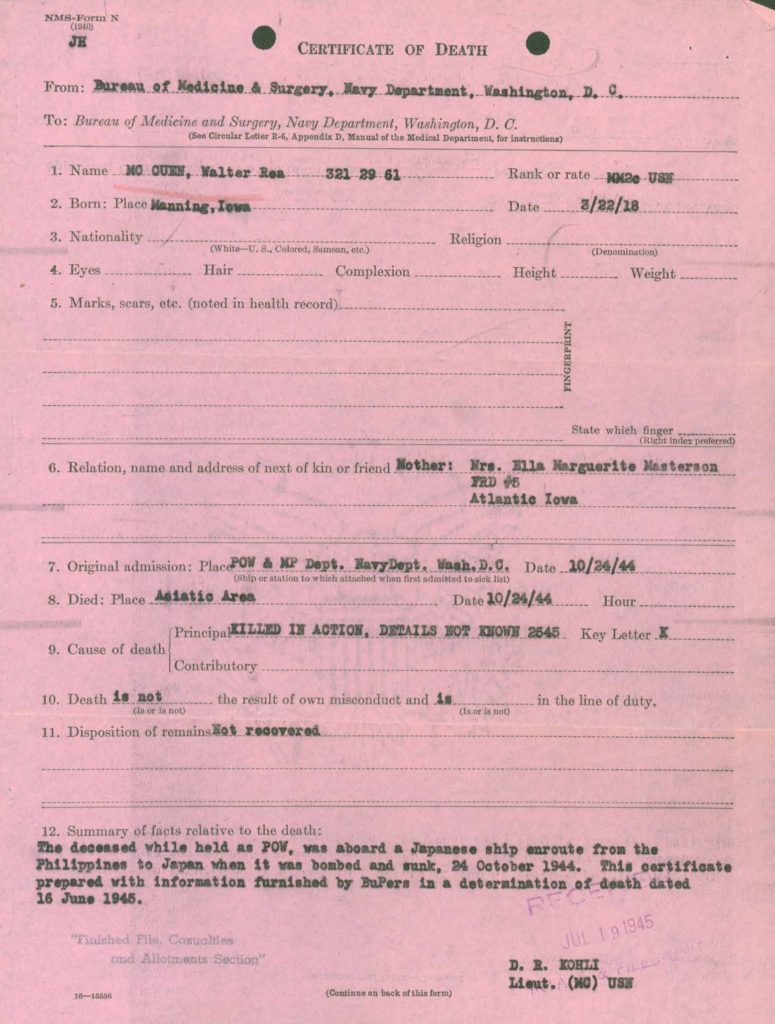 Court Martial/Disciplinary records: Navy service records detail disciplinary action taken against veteran's for a variety of infractions ranging from falling asleep on duty to more serious offenses such as desertion, theft, or murder. Disciplinary and court martial records are incredibly useful for genealogical research and are some of the most intriguing records that are preserved within WWII Navy service records.
After reading this post you should have a better  idea of the more common types of records you can expect to find within WWII era Navy military service records. Still, keep in mind that each veteran's military service record is unique to that veteran and the exact documents within your veteran's military service record will be specific to him or her.  Because such a wide variety of documents can be found within Navy military service records, it is almost inevitable that you will stumble upon some fascinating details about your family history.